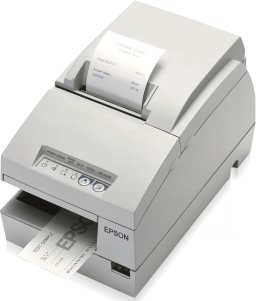 Epson TM-U675-012
Item No. C31C283012
This easy-to-use teller printer offers superior printing quality, validation and slip printing that meets even the most demanding requirements. In addition, the TM-U675, with its high speed printing, accurate MICR reader and fast check handling, is a perfect match for financial institutions.
Please call, chat, or email for price and order information
Description
Boasting one of the fastest printing speeds in its class, coupled with versatile paper handling, the TM-U675 will help you complete customer transactions in less time. It prints crisp, clean receipts and negotiable items, such as cashier's checks and money orders, at up to 5.14 lines-per-second. It also prints slips and up to 8 lines of validation.
The TM-U675 comes packed with features to streamline your operations. For the handling of documents, the TM-U675 supports 90-degree print rotation and includes a mechanical forms stopper for extra document stability. And its wider throat design enables quick and smooth drop-in validation. It also features an ASB (Automatic Status Back) function to keep operators constantly informed of printer status and a built-in maintenance counter for scheduling routine maintenance.
Designed to withstand the rigors of high transaction environments, the TM-U675, with a MCBF of 37 million lines, delivers the reliability that is critical to keeping your teller lines moving and your customer satisfaction high.
With Epson's wide range of exclusive Connect-It™ interfaces, including RS-232C, bi-directional parallel, RS-485 and USB, the TM-U675 is compatible with today's best-of-breed and component-based systems and can easily be integrated into your current system.
The TM-U675 features the quality and reliability that Epson is known for and is backed by Epson's world-class service and support programs.
Specifications
Model: C31C283082
Technology: Impact Dot Matrix
Print Speed: 5.14/lps
Autocutter Option: Yes
Paper Size (W x D): 3.25″ x 3.27″
Connectivity:

USB: Yes
RS232: Yes
Wireless IP Addressable: No
Parallel: Yes
Ethernet: No
Connect-It: Yes

Dimensions (H x W x D): 7.7″ x 7.3″ x 11.7″
Weight: 10.6 lbs
Features/Options: Validation printing up to 8 lines, MICR recognition, Connect-It interfaces for system compatibility
Warranty: 1 year
Check our Shipping Policy and Return Policy.